Researchers in the VanDyken and DeAngelis labs are recognized with the 2019 Outstanding Paper in Theoretical Ecology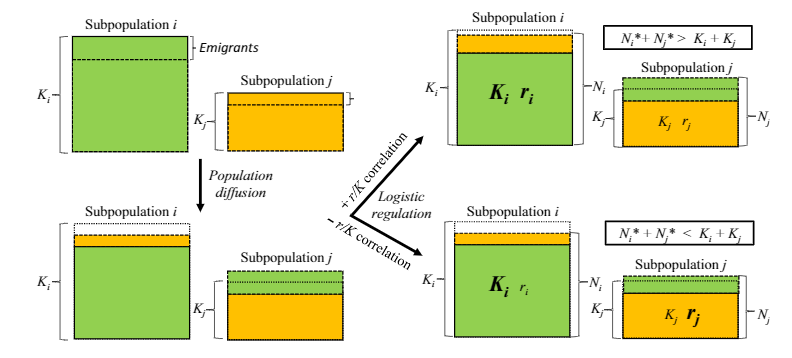 Using a mixture of partial differential equations and laboratory experiments, the research group upheld previous theory stating that diffusion can increase total regional abundance. Counter to previous theory, however, they demonstrated that homogeneous environments support more abundant populations than heterogeneous environments. The award committee was impressed that they were able to empirically demonstrate all of their theoretical predictions using laboratory experiments of yeast metapopulations. Award recipients include postdoc Bo Zhang, graduate students Alex Kula and Lu Zhai, UM undergrad Arrix Ryce, Adjunct Professor of Biology Don DeAngelis, and Assistant Professor of Biology David VanDyken. You can read more about their research published in Ecology Letters here: https://onlinelibrary.wiley.com/doi/full/10.1111/ele.12807.
---
Julia Dallman, Associate Professor of Biology, co-develops course that results in student documentaries airing on South Florida PBS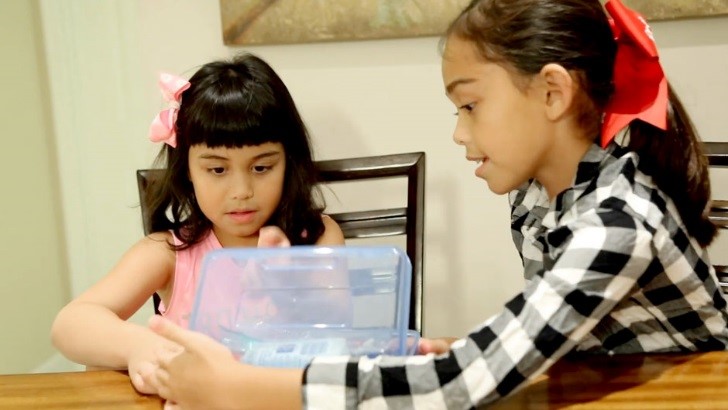 The course, named Science Documentary: Autism, is a collaboration between Dallman and Jim Virga, Associate Professor of Cinema and Interactive Media. Dallman teaches the students about the science behind autism spectrum disorder, while Virga instructs them on how to use the camera equipment and develop the documentary. This year's documentary follows the story of two sisters, Mischa and Micaela Sarkin, one with autism and one without. You can read more about the course and the documentary here:
https://news.miami.edu/stories/2019/09/documentary-class-combines-science-and-communication.html.
---
Sheyum Syed, Secondary Faculty in Biology, and James Baker, Assistant Research Faculty in Biology, are co-authors of a new study in Nature looking at color preferences of fruit flies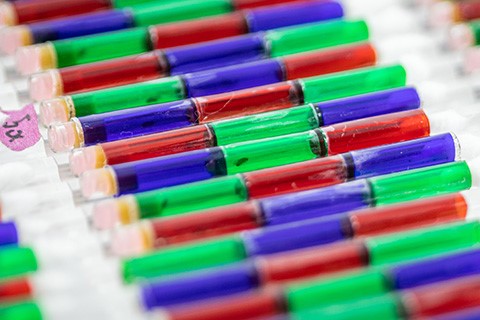 This exciting new study shows that Drosophila melanogaster, the most widely studied genetic model in the world, has color preferences that vary over the course of every day. Syed, Baker, and Syed's post-doc Stanislav Lazopulo, found that flies preferred green light both early and late in the day, red light in the middle of the day, but always hated blue light. Preference for red light in the middle of the day is driven by circadian rhythm genes that monitor time of day and overcome an innate preference for green light. The UM research group also discovered that the flies have light sensitive cells in their abdomen that drive the hatred for blue. You can read more about their study here:
https://news.miami.edu/stories/2019/09/study-gives-the-green-light-to-the-fruit-flys-color-preference.html.
---
New study finds that UM's HHMI Labs significantly improve research skills and academic outcomes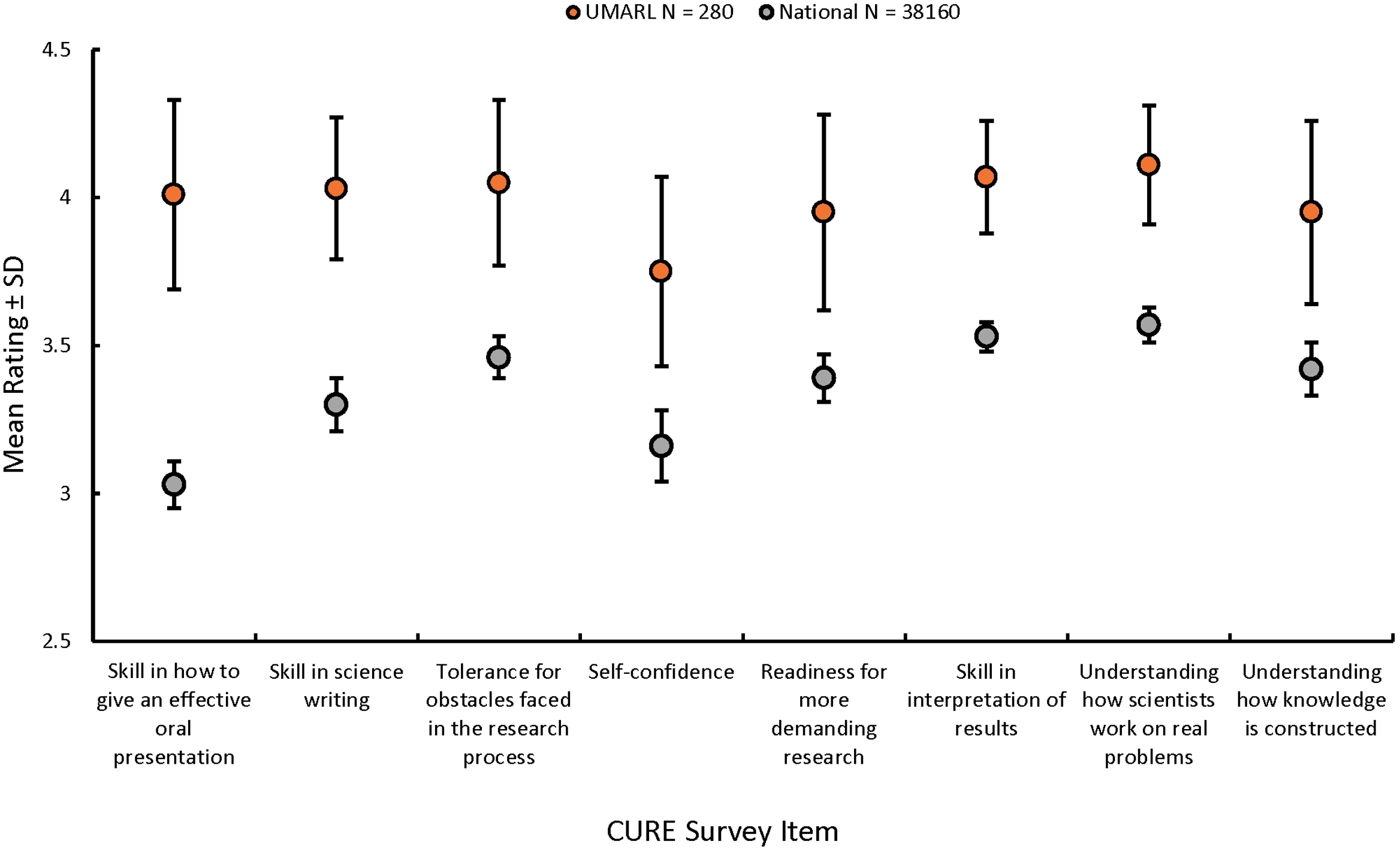 The study was published in Life Sciences Education by Educator Assistant Professor Jane Indorf, postdoc Joanna Weremijewicz, Professor Emeritus David Janos, and Professor of Biology Mike Gaines. It shows that students participating in the HHMI course have increased skills in data analysis and science communication, as well as boosted self-confidence and self-efficacy. The students also had an increased probability of engaging in individual research projects, graduating with a STEM degree within 4 years, and graduating with honors. You can read more about the study here: https://www.lifescied.org/doi/10.1187/cbe.18-07-0126.
---
Kathleen Sealey, Associate Professor of Biology, contributes to University-wide investigation of sargassum seaweed by examining its effects on water quality in the Keys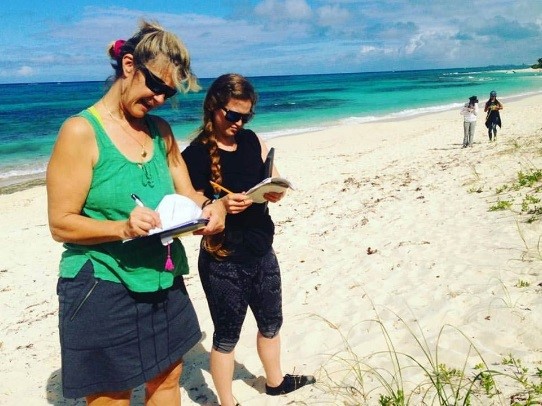 Sealey and her Coastal Ecology Lab are monitoring water quality at 65 sites around the Keys as part of a project funded by Monroe County and the Florida Department of Environmental Protection. Sargassum is the only seaweed in the world that doesn't begin life attached to the ocean floor, instead floating in the central Atlantic, providing habitat for young sea turtles, seahorses, crabs, and shrimp. Recently, however, it has come out of the North Atlantic Gyre, entering canals in the Florida Keys where it sinks and rots, negatively impacting the water quality that Sealey is monitoring. You can read more about her project here:
https://news.miami.edu/stories/2019/08/studying-the-surging-seaweed-that-is-sargassum.html.
---
Michelle Afkhami and Christopher Searcy, Assistant Professors of Biology, receive $850,000 grant from the National Science Foundation to examine the role of soil microbes in governing plant distributions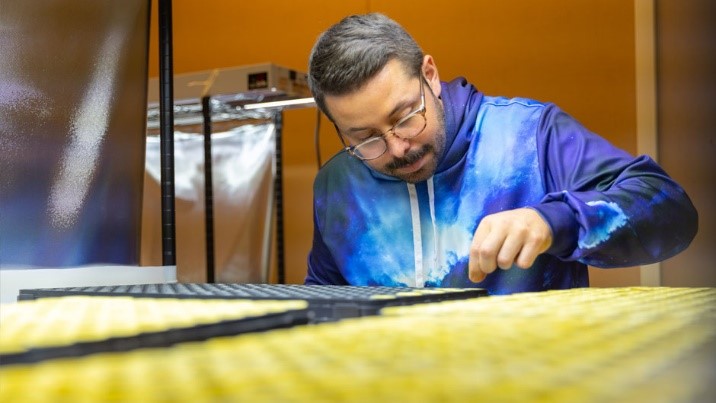 The overall goal of this project is to determine how soil microbes affect the distributions of rare plants in the endangered Florida Scrub ecosystem. Postdoc Dan Revillini (left) is currently growing 12 of these rare species in 144 different soils that have received varying combinations of fire and microbial treatments. This will allow the UM research team to determine how the microbial community responds to fire, and in turn how this affects the microbial community's ability to stimulate plant growth. Previous work conducted by Afkhami, Searcy, and postdoc Aaron David already demonstrated that one of the rare species, the endangered St. John's wort Hypericum cumulicola, is dependent on soil microbes for persistence in its water and nutrient poor habitat. You can read more about this project here: https://news.miami.edu/stories/2019/08/searching-for-the-hidden-drivers-of-floridas-rarest-plants.html.

---
Al Uy, Aresty Chair in Tropical Biology, gives UM undergrads exciting field experience in the Solomon Islands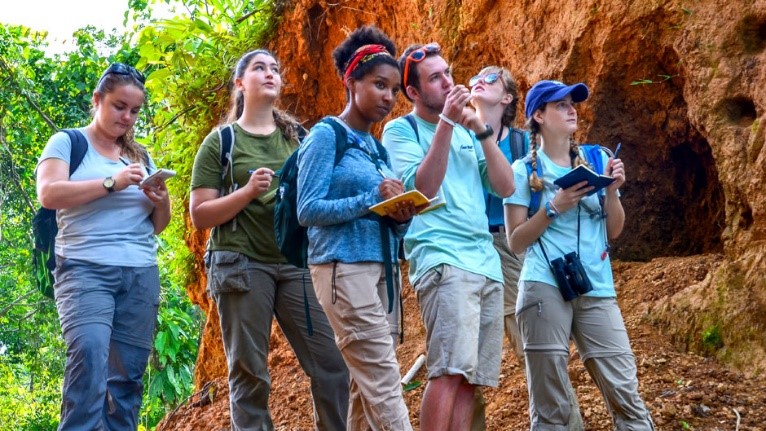 With funding from the National Science Foundation, Uy started the field course "The Origins, Ecology and Conservation of Insular Diversity." Students spend three weeks living in a subsistence village on Makira Island, learning about animal behavior, ecology, and environmental science. They complete group and individual research projects, studying diverse topics, such as camouflage of ghost crabs, territorial behavior of weaver ants, and structure of tent spider colonies. Uy has also helped the Solomon Islanders establish a new conservation area. You can read more about this exciting summer course here: https://news.miami.edu/stories/2019/07/studying-the-biodiversity-of-the-solomon-islands.html.
---
Three graduate students in the Biology Department receive National Science Foundation Graduate Research Fellowships
These prestigious fellowships provide three-year annual stipends and access to numerous professional development opportunities. Brianna Almeida studies the interaction between morning glories, fungi that live within their leaves, and the pollinators that visit them. Emmanuel Medrano studies how individual neurons control animal behavior using the model organism C. elegans. Hunter Howell studies the impact of different restoration practices on reptile and amphibian communities in the Everglades. You can read more about their accomplishments here: https://news.miami.edu/stories/2019/05/graduate-students-win-prestigious-fellowships.html.
---
Michelle Afkhami, Assistant Professor of Biology, is awarded University of Miami Faculty Mentor of the Year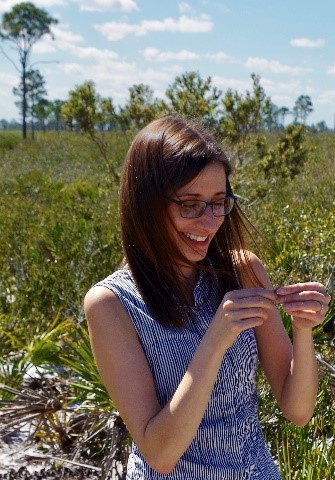 Afkhami plays an active role in the research and career development of her mentees. All three of her current graduate students are on multi-year fellowships that Afkhami helped them acquire. Although only at University of Miami for three years, she already has mentored 25 UM undergraduate students conducting research in her lab. One of these students, Sathvik Palakurty published a first-author paper in Molecular Ecology under Afkhami's guidance and won Best Undergraduate Honors Thesis for another project in her lab. You can read more about the award here:
https://news.miami.edu/grad/stories/2019/04/the-graduate-school-celebrates-outstanding-members-of-the-graduate-community-at-the-annual-awards-ceremony.html.
---
Kevin Collins, Assistant Professor of Biology, receives an NSF CAREER award to study neural circuits in the model organism C. elegans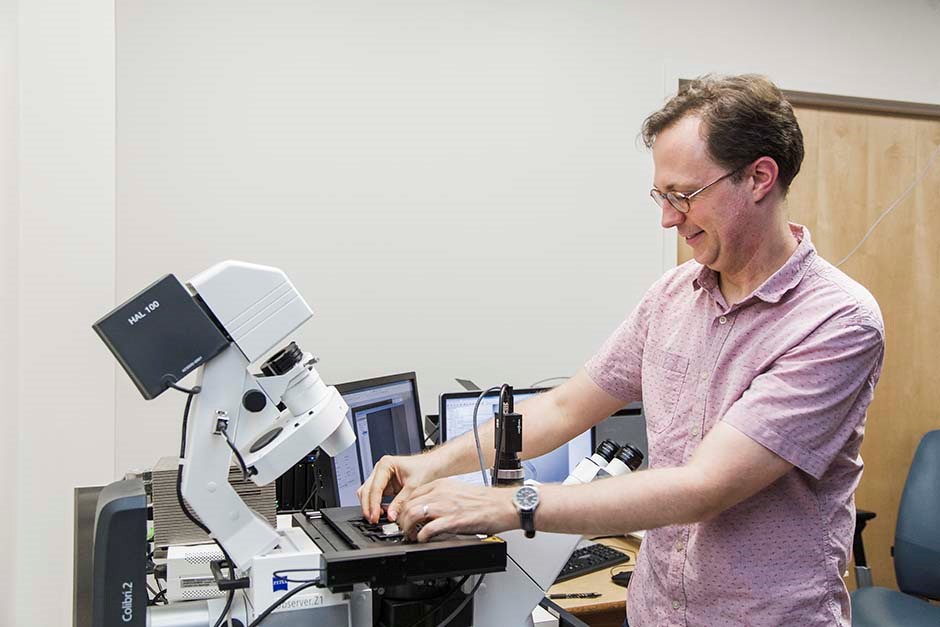 With only hundreds of neurons, unlike the 100 billion neurons found in humans, C. elegans provide a tractable system for uncovering the entire neural process that activates a particular behavior. Plus, they are transparent, providing scientists the opportunity to see everything that is going on inside of them! Collins takes advantage of these factors to study the neural circuits underlying C. elegans reproductive behaviors, key behaviors that are essential to all forms of life. As part of his new award, Collins will be developing a new course, providing UM students with hands-on research experience in molecular genetics. You can read more about the award here:
https://news.miami.edu/as/stories/2019/04/collins-lab-2019.html.
---
Researchers in the Dallman Lab use zebrafish to uncover the genetic basis for gastrointestinal distress in autistic children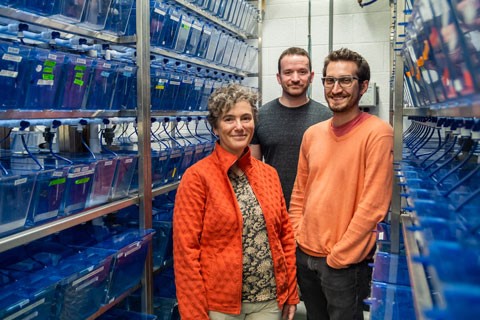 Julia Dallman, Associate Professor Biology, and her two graduate students David James and Robert Kozol published their findings in Molecular Autism. Zebrafish have a similar genetic structure to humans, and the research team found that mutations in the zebrafish SHANK3 gene cause food to move through the intestine at an abnormally slow pace. Humans with SHANK3 mutations suffer from a particular type of autism known as Phelan-McDermid Syndrome and also complain about gastrointestinal distress. Dallman's team thinks the abnormal intestinal functioning is tied to underproduction of serotonin, which creates potential for a treatment that could alleviate the symptoms. You can read more about their research here:
https://news.miami.edu/stories/2019/02/see-through-fish-aid-scientists-in-autism-related-breakthrough.html.
---
Graduate student Belén Fadrique and her advisor Ken Feeley, Smathers Chair of Tropical Tree Biology, publish a new study in Nature examining the effects of climate change on tropical forests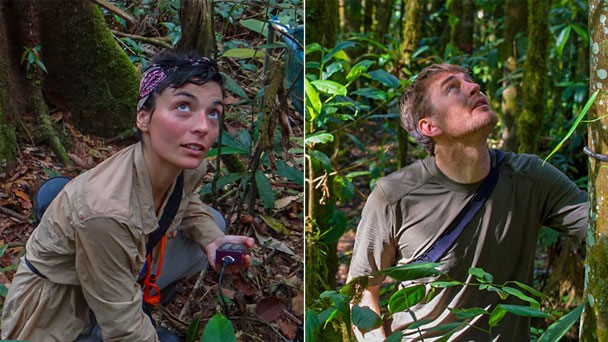 Fadrique and Feeley led an international team of 18 researchers to assemble a database on changing populations of 2,000 tropical tree species in the Tropical Andes Biodiversity Hotspot. The team found that heat-loving tree species are increasing at the expense of cold-loving species. This sparks concern for biodiversity loss when the cold-loving species can no longer find their preferred climatic conditions and are driven extinct. You can read more about the study here:
https://news.miami.edu/stories/2018/11/tropical-trees-in-the-andes-are-moving-uptoward-extinction.html.